about john's unlimited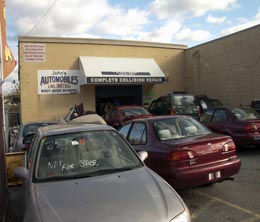 What Our Customers Are Saying
John's Unlimited made getting my son's car repaired very pleasing. No one looks forward to going to a mechanic, but I will be telling everyone about my experience here. I never felt like I was "at" the mechanic shop. I felt like I was at an office, very professional, and was updated almost daily as to the status of my vehicle. The employees were very friendly, knowledgeable and very accommodating. I will always use John's Unlimited from now on.
what we offer
Accident Damage Appraisal
Frame & Uni-Body Repair
Body Repair
Painting
Welding
Reconditioning & Detailing
Scratches & Bumper Repair
Towing
Truck Body Repair & Painting
Our friendly and knowledgeable office staff are here to get you started on the way to an "Invisible Repair".
John will explain the necessary repairs to your vehicle in an honest, simple and straightforward manner. If you are working with an insurance company we can definitely help in that department as well. We are very familiar with all major insurance companies and will assist you in navigating through the claim process. John's will deal fairly with your insurance company to get a guaranteed, quality repair at a competitive price.